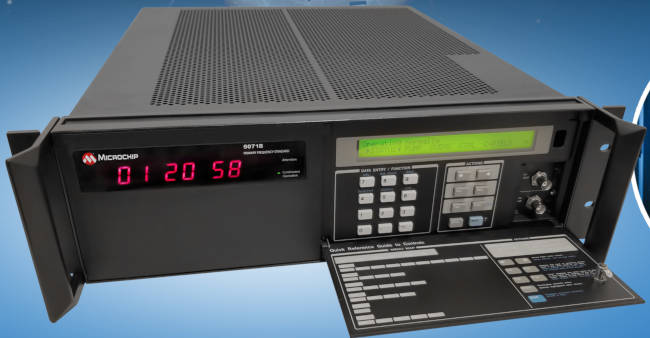 Called 5071B, it comes in a 3U (three-unit high) 19inch rack-mount enclosure.
Compared with the existing 5071A, the next-generation 5071B "has upgraded electronic components to address possible obsolescence or non-RoHS [Restriction of Hazardous Substances Directive] circuitry" so that it is "now fully compliant with RoHS", said Microchip.
100ns hold-over is claimed for more than two months – enough for a 5G network to run for that time without GNSS.
Available at two performance levels (5071B-001 and 5071B-002) the cesium beam tube product has no deterministic long-term frequency drift, added Microchip, and can provide absolute frequency accuracy of 5×10-13 over all specified environmental conditions for the life of the product.
"Air traffic control in the US utilises ADS-B [Automatic dependent surveillance – broadcast] and WAM [wide area multi-lateration] to locate the position of aircraft across the nation's airspace. The stability of the 5071B enables more accurate locations and continued operation during GNSS outages," it said.
For development, Clockstudio Software Tool is available to control and monitor data.
Further applications are expected in rapidly deployed military radars, with the absolte accuracy removing the need for synchronisation prior to radiating, and in satellite communications.