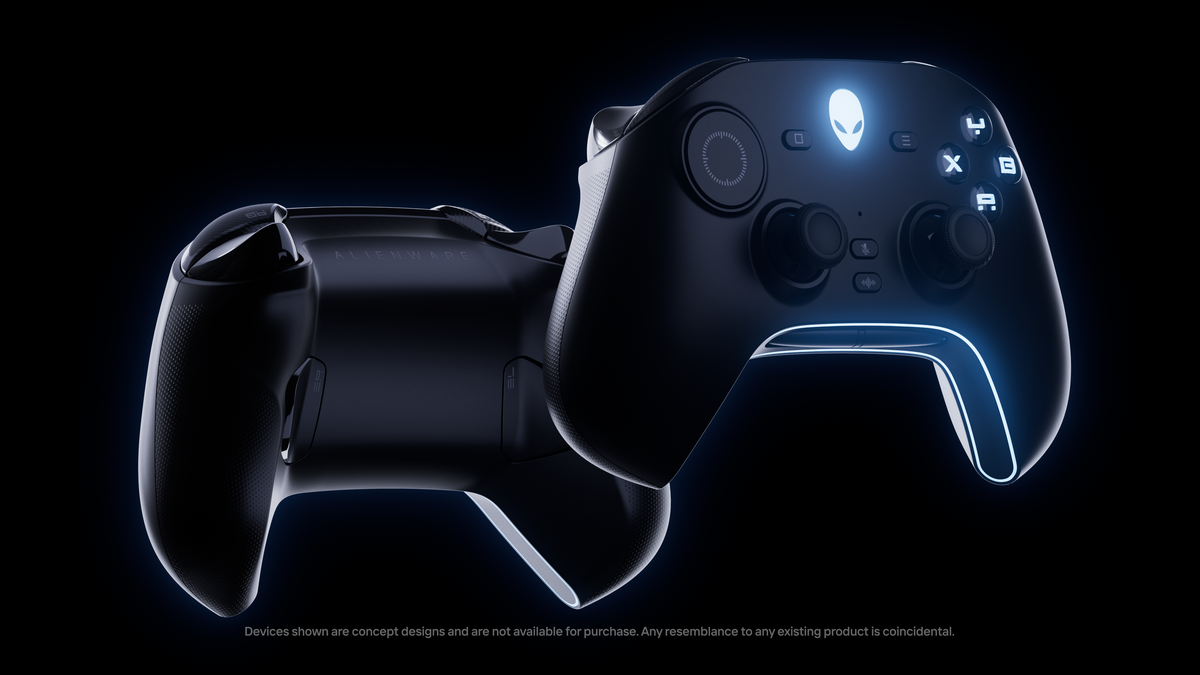 Valve's hardware dreams are currently doing better than ever thanks to the Steam Deck, but once upon a time, the house of Newell also wanted to own your living room. The Steam Machine, the physical Steam Link, and even the Steam Controller never quite took off like the Steam Deck has, but as cloud gaming has become more normalized, other companies are coming in to carry on Valve's dreams. We saw Dell's Concept Nyx at last year's CES, where it was revealed as an experimental, not-for-sale home gaming server that essentially works like a personal GeForce Now to beam your games across your home. This year, Concept Nyx is back, and while it's still not for sale and the mechanics of the server haven't changed much, Dell gave us some time with a new, also experimental and not-for-sale controller it's testing to accompany it. Already, it's looking like it could become one of the most comprehensive and comfortable ways to control a PC from your couch.
The Steam Controller made waves when it came out thanks to its dual haptic touchpads, a note that Dell is taking to heart with its new concept controller. It's got the same four-button, two-stick layout you're probably familiar with by now, and even boasts the same back paddles you'll get on premium controllers like the Dualsense Edge. But in place of the directional pad is a single haptic touchpad that's supposed to boast quite a bit of functionality.
Essentially, it's there to give you a radial menu. With the press of a button, the touchpad becomes a way to navigate a quick access menu of 8 or so PC settings (it's customizable). Which PC settings the radial menu accesses is up to you, and the idea is to let you set those in software.
In addition to the touchpad—there are touchpads on Sony's controllers, after all—the Concept Nyx controller also has two scroll wheels, which function just like those on your mouse, positioned below the sticks. Dell's also toying with a fingerprint sensor for quick log-ins, and the back paddles can be used as shift buttons to temporarily swap the controller to new mapping schemes, which you will determine in the software.
Perhaps the most impressive part of the controller is the shoulder buttons, which have haptic touch feedback that also allow them to work in a similar way to a scroll wheel. You just need to brush your finger across them.
G/O Media may get a commission
42% Off
Hisense 58-Inch ULED LED 4K Smart TV
TV time
This 58-inch smart TV has 4K visuals on a stunning ULED screen that boosts color, contrast, and brightness, has Fire TV built-in for convenience, and even includes Alexa.
Still in the works are even more advanced features, like the ability to set custom resistances for your thumb sticks. The controller's also supposed to have adaptive triggers much like Sony's Dualsense, where it will offer different levels of force for different in-game activities, although I didn't get to test this. The controller's also supposed to recognize you and launch you right back into whatever game you were last playing when you pick it up—perhaps via the fingerprint reader—but I couldn't test this either.
All of this is, of course, still a concept, but the ideation here is promising, especially for people who like to play games like MMOs with a controller, or who hate navigating a living room PC with a wireless keyboard and mouse. I would count myself among both of those groups. I didn't get a chance to play any games with the Concept Nyx controller at a demo set up by Dell where I got to hold it, but I was impressed by the solid build quality. The haptics, scroll wheels, and scrolling shoulder buttons were also already working as intended when I demo'd them, and it was easy to differentiate between a new virtual notch whenever I brushed my hand across the shoulder button.
We'll see if you'll ever be able to actually buy this controller. As shown by Concept UFO, Dell's concepts often don't leave that phase. But the gauntlet is now thrown at everyone who thought the controller form factor was already perfect.