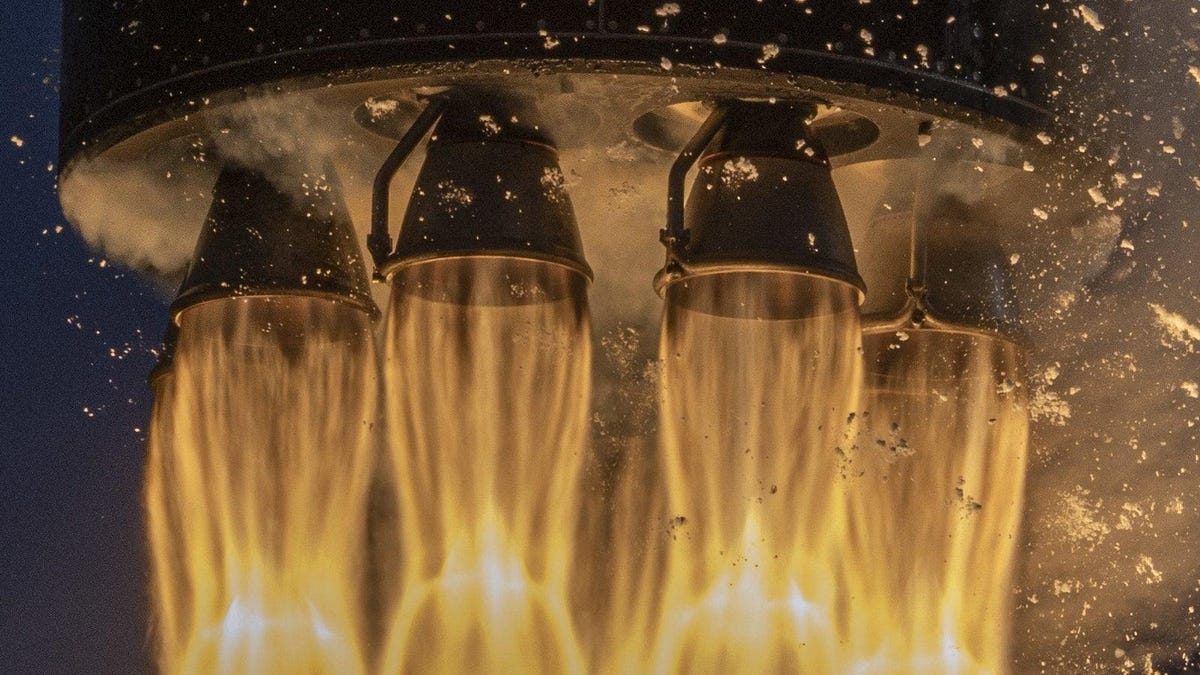 Reusability is the key to 21st century spaceflight, with many launch providers now working to make their rockets as recyclable as possible. California-based Rocket Lab is ready to take an important next step in this direction by fitting a previously flown 3D-printed engine onto its Electron rocket.
Astronomers Could Soon Get Warnings When SpaceX Satellites Threaten Their View
To date, some 350 Rutherford engines built by Rocket Lab have gone to space, yet none have returned for a second stint in low Earth orbit. That could change later this year, as the private space company is aiming to re-fly a Rutherford engine that went to space during Rocket Lab's There and Back Again mission in May 2022, the company announced today in a statement. This has never been done before for a 3D-printed engine, so Rocket Lab could make history with the launch, scheduled for the third quarter of this year.
This is all part of the company's plan to make its small-lift Electron rocket more reusable. "By evolving it into a reusable launch vehicle we plan to further increase our already steadily rising launch cadence, offering more launch availability to our customers at a time when space access is severely constrained globally," Rocket Lab founder and CEO Peter Beck said in the statement.
Debuting in 2017, Rutherford is the world's first 3D-printed rocket engine. Nine of these kerosene-fueled engines power Electron's first stage, each of them exerting 5,500 pounds (2,495 kilograms) of thrust, allowing the rocket to deliver 660 pounds (330 kg) to low Earth orbit. A lone vacuum-friendly Rutherford powers Electron's second stage.
After its recovery in May 2022, the chosen Rutherford engine underwent extensive testing for recertification, including multiple full mission duration hot fire tests, during which it performed "on par" with unflown Rutherford engines, according to Rocket Lab. The engine is ready to go, but it won't fly until later this year on account of newly built engines already being set aside and integrated for upcoming missions.
Electron boosters aren't capable of performing autonomous vertical landings à la SpaceX's Falcon 9. Instead, these boosters are recovered with ships after soft parachute-assisted landings in the ocean, typically off the coast of New Zealand's Māhia Peninsula. Rocket Lab has performed six of these ocean recoveries to date.
"Reusability for small rockets is immensely challenging as they simply don't have the fuel margins that larger rockets have to enable propulsive landing," Beck said. "Despite this significant technical hurdle, our team has poured relentless innovation into our reusability program and proven it's possible to bring home small rockets and run the engines as good as new."
The company originally wanted to use helicopters to catch the boosters during descent, but these operations proved to be challenging. What's more, the company learned that the water landings weren't harming the boosters. Said the company in its release: "Extensive analysis of returned stages shows that Electron withstands an ocean splashdown and engineers expect future complete stages to pass qualification and acceptance testing for re-flight with minimal refurbishment." As a result, Rocket Lab is abandoning the helicopter recovery concept in favor of the ship-assisted rescues.
Rocket Lab's There And Back Again mission featured the first mid-air helicopter capture attempt of a returning booster. The pilots managed to snag the parachute line, but they chose to let go after noticing different load characteristics than those observed during previous test flights. The helicopter snag didn't work as planned, but Rocket Lab can find solace in knowing that one of its recovered engines could return to the cold void that is space.
For more spaceflight in your life, follow us on Twitter and bookmark Gizmodo's dedicated Spaceflight page.