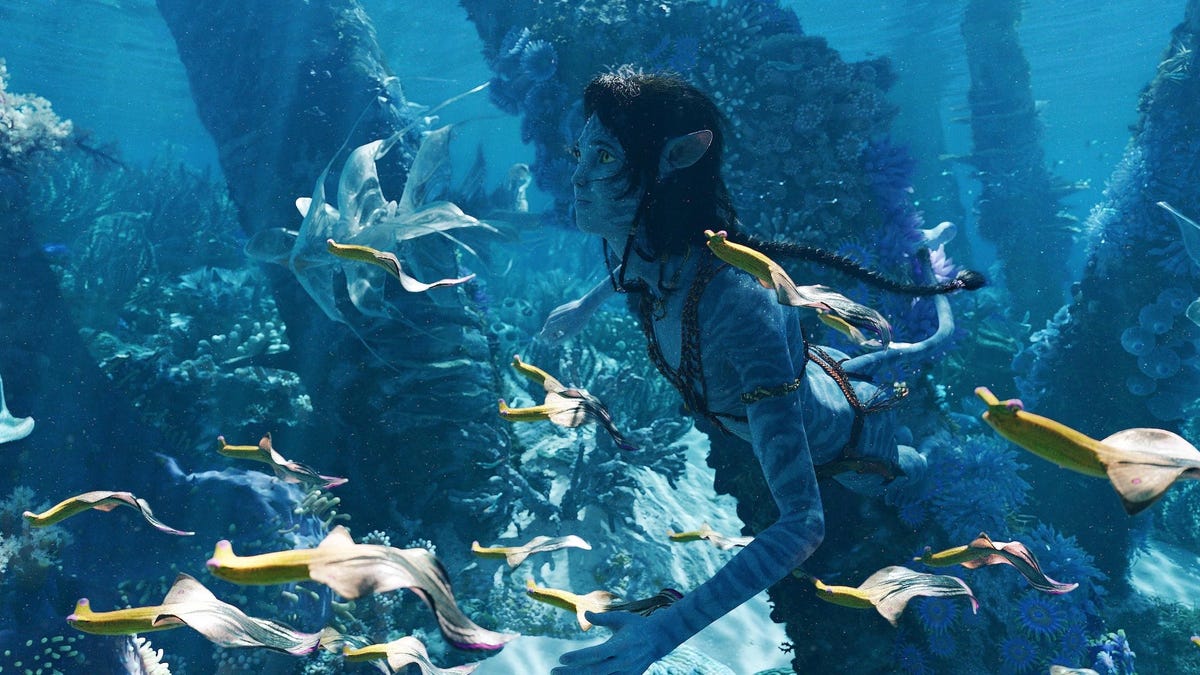 In Avatar: The Way of Water, people from Earth hunt down the Na'vi of Pandora as part of a larger plan to take over their planet. But here on actual Earth, the Na'vi have officially won the war.
As of Wednesday, James Cameron's sequel has grossed $1.51 billion globally, which bests the $1.49 billion Top Gun: Maverick grossed earlier this year. That means Avatar: The Way of Water is now the highest-grossing film of 2022 globally. Domestically, it's a different story; Maverick still comfortably sits at the top of the mountain, over $260 million ahead. (Maverick stands at $718 million domestic, Way of Water was at $454 million as of Wednesday). To put that in perspective, that's one full The Amazing Spider-Man.
But Avatar has never been just a domestic franchise. The original film, which grossed a still hugely impressive $785 million domestically (good for fourth all-time), grossed over three times that internationally for a global cume of almost $3 billion. So that it's outgrossed Maverick, a film with its roots very much in Americana, internationally isn't really a surprise. What is a surprise is that it did so quickly. The Way of Water has been in theaters for just about three weeks in total. It's still got weeks, probably months, of playing in theaters and getting those numbers up. We're looking at a true box office juggernaut.
So, where can it go from here? Passing Top Gun: Maverick at the global box office puts it at #10 all-time. Number nine all-time, The Avengers, is just dollars ahead, so it should beat that in mere hours if it hasn't already. So, we're looking at The Way of Water being the ninth highest-grossing film of all time. Eighth place, the 2019 Lion King, is next on the list at $1.66 billion, and number seven, Jurassic World, is right on top of that at $1.67 billion. The next huge milestone, then, is number six which is Spider-Man: No Way Home. That's at $1.91 billion, and if The Way of Water hits that, $2 billion is not that far behind. Only five films have ever grossed over $2 billion: Star Wars: The Force Awakens, Avengers: Infinity War, Avengers: Endgame, Titanic, and Avatar. And, of those five, two are directed by James Cameron.
And, yes, because someone always mentions it, none of this is adjusted for inflation.
G/O Media may get a commission
---
Want more io9 news? Check out when to expect the latest Marvel, Star Wars, and Star Trek releases, what's next for the DC Universe on film and TV, and everything you need to know about the future of Doctor Who.