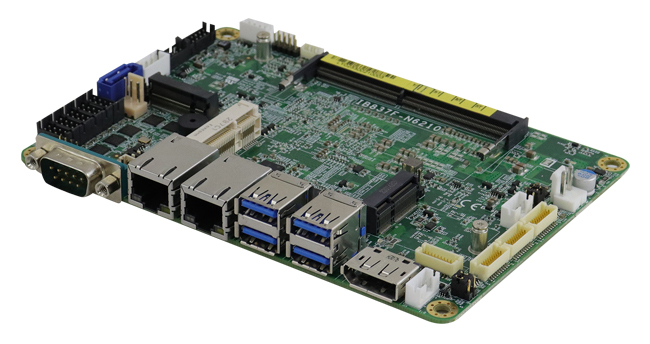 IBASE Technology Inc., a leading provider of embedded computing solutions, introduces the IB837 3.5" single board computer that is designed for a wide range of IoT applications, including industrial automation, smart retail, healthcare, smart city and edge AI solutions, combining powerful processing capabilities with extensive connectivity options.
At the heart of the IB837 is the onboard Intel® Celeron® N & J series (formerly Elkhart Lake) processor, offering a good balance of performance and power efficiency. With support for up to 16GB of DDR4-3200 SO-DIMM memory, the SBC ensures smooth multitasking and efficient operation, delivering exceptional performance while consuming minimal power for applications requiring a compact form factor.
IB837 FEATURES:
Onboard Intel® Celeron® N & J series processor
1x DDR4-3200 SO-DIMM, Max. 16GB
Supports 1x DisplayPort & 2x dual channel LVDS
2x I226V PCI-E 2.5G LAN, 6x COM ports
4x USB 3.1, 2x USB 2.0, 1x SATA III (shared with M/2 B-key)
2x M.2 sockets (E-key & B-key), 1x Mini PCI-E slot (full-size)
Watchdog timer, Digital I/O, fTPM, mSATA, 12V only DC-in
The IB837 is equipped with a comprehensive selection of I/O ports to facilitate seamless integration with various peripherals and devices. It features one DisplayPort and two dual-channel LVDS interfaces, enabling flexible display configurations for enhanced visual experiences. Additionally, the board offers two I226V PCI-E 2.5G LAN, four USB 3.1, two USB 2.0, and one SATA III port, which can be shared with the M.2 B-key slot, allowing for flexible storage options.
The IB837 incorporates two M.2 sockets (E-key & B-key) and one full-size Mini PCI-E slot, providing versatile expansion capabilities for wireless communication modules, storage devices, and other expansion cards. The inclusion of essential features such as 12V DC-in power input, extended temperature range, a watchdog timer, digital I/O, fTPM, and mSATA further enhances the functionality of the platform. For more information, please visit www.ibase.com.tw or contact sales@ibase.com.tw.
Please follow and like us: