What's the main difference between WordPress hosting and standard web hosting? 
WordPress hosting is specifically optimized for WordPress sites with better performance, whereas standard web hosting can host ANY website, including WordPress sites.
In most cases, standard web hosting is cheaper than WordPress hosting. You can launch a WordPress site with standard hosting as well. Both these hosting types have their own merits and demerits. But which one should you go for?
In this article, we'll compare both types of hosting and help you find which option is better for your needs. Here are a few things you'll discover;
Benefits of choosing a standard web hosting
Benefits of going for WordPress Hosting
Our recommendations for both hosting types
Pros and cons of both types and much more
Let's get started without much ado.
Web Hosting vs WordPress Hosting: The Differences, Pros, Cons & More
What Is Web Hosting?
Standard web hosting is a general-purpose hosting that can store website files such as blog posts, images, videos, etc. You can host any website (a Blogger.com blog or WordPress blog).
Generally, you rent space on a server so anyone anywhere can access your website.
Also, shared hosting is the most common type of standard web hosting. In shared hosting, you share a SINGLE server with other websites, which means that your website resources are not dedicated to your website alone. 
Here are THREE big reasons to go for standard web hosting over WordPress hosting.
1. Affordable 
The #1 reason to go for standard web hosting is that it is cheap. That's because a single server is split between multiple websites in shared hosting. 
Shared hosting is the BEST choice if you have a new and smaller site, primarily due to its low cost (often $5 per month or less).
If you are a beginner who is just starting out, you may want to choose a shared hosting plan because of its pricing.
2. Flexibility
Another reason to choose normal web hosting over WordPress hosting is FLEXBILITY.
You can host websites that are NOT on WordPress. With shared hosting, you can host any type of website, including:
Static websites
Non-WordPress sites
Dynamic websites
eCommerce websites
Forums
Portfolio sites and more
For example, if you want to build a static website, such as a portfolio website, you don't need to use WordPress hosting. 
Also, normal web hosts typically offer a wider range of hosting plans, including shared hosting, VPS hosting, and dedicated hosting. So, you'll have a lot of flexibility to pick whatever blogging platform you want.
3. Built-in cPanel
Almost all the web hosts that offer shared hosting plans offer you a built-in control panel where you can manage everything, such as;
Your website files
Domains
Backups
Emails
Databases and many more 
With standard web hosting, it's easy to manage your website, including adding FTP users, adding new website folders, changing passwords, etc.
Pros of Standard Web Hosting
The biggest benefit of standard (or shared) web hosting is that it is extremely affordable compared to other types of hosting, including managed WordPress, VPS, dedicated hosting, etc. 
Most web hosts that offer shared hosting provide you one-click installation of popular web applications, such as WordPress, Drupal, Joomla, etc.
The majority of web hosting providers offer uptime guarantees of 99% or high
Scalability is NOT an issue with shared hosting plans; you can easily upgrade your plan as your website traffic grows.
Standard web hosting gives you more flexibility, as you can create ANY type of website you want and install any script apart from WordPress. 
Most web hosts allow hosting multiple websites, so you can host many sites on a single hosting account
With standard web hosting, you'll mostly get unlimited bandwidth for your websites
Offers a cPanel, which makes it easier to set up emails, databases, addon domains, and more.
Cons of Web Hosting
Shared web hosting can lead to slower loading times because many other websites are on the same server. You should skip shared hosting if you want a better website and performance.
Security is one of the biggest concerns with shared hosting, as your website shares a server with other websites.
You'll have limited to zero control over the server environment and can't change the server configuration, server files, and resources.
You'll get basic support options in shared hosting, and most essential features (such as daily backups, CDN, etc.) come as add-ons, so you'll have to pay extra.
What Is WordPress Hosting?
WordPress hosting is a web hosting that is exclusively designed for WordPress websites. 
If you're planning to use a self-hosted WordPress platform to launch your website, go with managed WordPress hosting providers.
WordPress hosting offers features that are optimized for WordPress, such as:
Pre-installed WordPress software
Automatic WordPress updates (core updates)
Better security for WordPress websites and more
Why Go for WordPress Web Hosting? 3 Reasons
So why should you consider WordPress web hosting over normal web hosting? Here are THREE benefits.
1. Exclusive features
With WordPress hosting, get access to WordPress-specific features such as;
Pre-installed WordPress 
Automatic WordPress updates
Access to free WordPress themes and layouts
Dedicated WordPress support and more
You'll also get access to all the powerful features like;
Website staging: Website staging is a process of creating a copy of your live website. This feature allows you to test changes to your website before making them live. You can test plugins, themes and what not?
Daily backups: Daily backups are important for protecting your website from data loss. By having daily backups, you can quickly restore your website files if anything goes wrong.
Caching: All the WordPress web hosts offer in-built caching which improves the overall loading speed of your website. This is important because users are more likely to leave a website if it takes too long to load.
So, if you're looking for WordPress-specific features to launch your website, go with WordPress hosting.
2. Better performance
One big reason to choose WordPress hosting over standard web hosting is the performance.
Hands down, the websites using managed WordPress hosting are far superior, secure and reliable compared to normal web hosts. Managed WordPress hosting providers use high-performance servers that are optimized for WordPress websites.
Almost all the managed WordPress web hosts provide a FREE CDN. A CDN can deliver your static files, such as images, CSS, JavaScript, etc., to visitors from servers closer to them. It ultimately leads to faster page loading times no matter where your website visitors are coming from.
3. Save more time
Last but not least, you'll save a lot of time when you go for the managed WordPress hosting option.
Most WordPress hosting providers make sure to update your WordPress core, themes, and plugins as soon as new versions are released.
We all know that manually updating WordPress can be time-consuming and complicated, especially for NEW WordPress users. Here's where managed WordPress hosting comes in handy as they take care of all of this for you, so you can focus on creating content and running your website.
Pros of WordPress Hosting
The main benefit of WordPress hosting is that it is easy to get started with WordPress. Most web hosting providers install WordPress out of the box, so you don't have to worry about downloading and installing it yourself. 
You will get automatic WordPress updates, so you don't have to worry about updating it manually (whenever there's a latest update).
You'll get better performance with WordPress hosting, as it is optimized specially for WordPress websites. It simply means that websites load fast, which can ultimately help you with better user experience and search rankings.
WordPress hosting providers offer bulletproof security. Most web hosts offer features like firewalls and malware scanning to protect your website from all the security attacks.
Unlike shared hosting, you'll get dedicated resources for your website. So you won't face any website downtime issues if other users on the same servers are overusing resources
It offers WordPress-centric features, such as automatic WordPress updates, WordPress-specific security features, access to themes, plugins, expert WordPress customer support, and more
Free website backups are provided with most WordPress hosting plans 
Most WordPress hosting providers (such as WPX, Kinsta, etc) offer free website migrations, which means you can transfer all your website files from the existing host for free
You'll also get 24/7 support from dedicated WordPress experts
Above all, WordPress-specific hosting can be helpful for beginners unfamiliar with WordPress.
Cons of WordPress Hosting
It's expensive when compared to standard web hosting plans. For example, standard web hosting from Hostinger costs $2.69/mo, whereas managed WordPress hosting from WPX costs $20/mo
Our Hosting Recommendations 
There are hundreds of web hosts out there that provide shared and WordPress hosting solutions. So which one should you go for?
We've tried and tested a ton of web hosts in the last 13 years of our blogging journey.
Here are our picks;
For standard web hosting: Hostinger
For managed WordPress hosting: WPX
Let's quickly talk about these two web hosts and their pricing plans so you can pick the right one for your hosting needs.
For standard web hosting 
Hostinger is the most affordable hosting choice for beginners, used by millions of websites. We recommend their Premium Web Hosting plan, which costs only $2.69 monthly (with our exclusive link).
With their premium web hosting plan, you'll get;
Install Up to 100 Websites
100 GB SSD Storage
Free Weekly Backups
Unlimited Free SSL
Unlimited Bandwidth
Free Email
Free Domain ($9.99 value) and Much More
Here's our special link, which gives you a huge 78% discount on their premium hosting plan.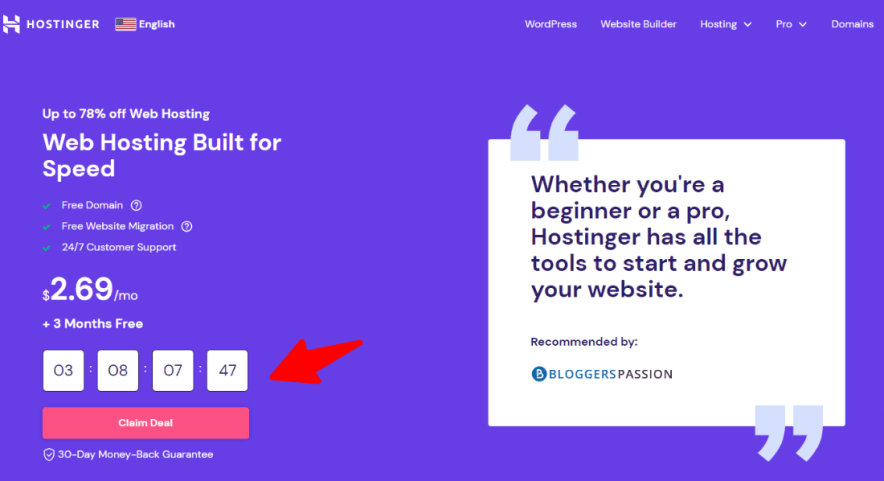 As you can see, you'll get their premium web hosting plan for just $2.69 per month.
Once you click on the "Claim Deal" button, you'll be taken to their payment page, which looks like this;
As you can see above, you'll get the four-year hosting for just $129. 
In case you want to see other options, here are 4 pricing plans offered by Hostinger in shared web hosting.
Single plan costs you $1.99 per month where you can host 1 website with 50 GB storage and you'll get free weekly website backups
Premium plan costs you $2.99 per month, where you can host 100 websites with 100 GB storage and you'll get free weekly website backups, free domain, and more
Business plan costs you $3.99 per month, where you can host 100 websites with 200 GB storage and you'll get free DAILY website backups, free domain, free CDN and more
Cloud Startup plan costs you $9.99 per month, where you can host 300 websites with 200 GB storage and you'll get free DAILY website backups, free domain, free CDN, free dedicated IP and more
Also, you'll get a 30-day money-back guarantee with all the Hostinger's plans.
For WordPress web hosting 
For WordPress hosting, we recommend WPX. 
WPX is the same web host that we've been using on BloggersPassion for more than seven years.
WPX offers the following pricing plans;
Business plan costs you $20.83 monthly (if billed annually), where you can install up to 5 websites with 15 GB storage and 200 GB bandwidth
Professional costs you $41.58 monthly (if billed annually), where you can install up to 15 websites with 30 GB storage and 400 GB bandwidth
Elite costs you $83.25 monthly (if billed annually), where you can install up to 35 websites with 60 GB storage and unlimited bandwidth
To get started, click on this link to visit the WPX website.
Pick any web hosting plan according to your budget and website needs.
Then, it will ask you a few things (such as domain registration, email, etc.). 
Make the payment, contact their support staff, and they'll migrate your site to WPX for free (or help you with WordPress site creation if you're starting new).
WPX also offers a 30-day refund policy for all of their hosting plans. This means they'll issue a full refund if you cancel your hosting account during the first 30 days of sign-up.
Which One to Choose? Web Hosting or WordPress Hosting?
If you're still unsure which type of hosting is right for you, here is a quick section summarizing the key differences between standard web hosting and WordPress hosting.
Choose standard web hosting:
If you're not using WordPress CMS
If you have a small website with low traffic
If you're on a tight budget
If you're comfortable with managing your own website
Choose WordPress web hosting:
If you're using WordPress
If you expect to have a lot of traffic to your website
If you want to focus on creating content, not managing your website
If you want more security and reliability 
---
Here are some common FAQs most people ask about web hosting.
Does WordPress host websites?
WordPress offers two versions: free (WordPress.com) and paid (WordPress.org). You don't need any hosting with the free version; you need to pay for hosting if you're using WordPress.org, which offers more functionality and control over your site.
What are the WordPress recommended Hosts?
WordPress officially recommended hosts are;
– Bluehost
– DreamHost
How much does it cost to host a WordPress website?
It depends on the web hosting provider you choose. Hostinger is a popular web hosting choice for millions of people and its premium hosting plan costs just $2.69 per month with a free domain.
Is WordPress a Hosting Site?
No, WordPress is a CMS (Content management system). However, its free version, which is WordPress.com, allows you to host and manage your site for free.
Which one is better: WordPress hosting or web hosting?
If you're using WordPress, then WordPress hosting is the best option. However, standard web hosting may be a better and cheaper option if you use a different blogging platform.
Related Resources:
---
Final thoughts
No matter what type of web hosting you choose, it's important to consider your website needs and budget.
Go with WordPress hosting if you plan to use WordPress (the #1 CMS). If you've experience managing your websites on your own, you can try standard web hosting.
So, what are your thoughts? Which one do you prefer among the two? Have any more questions? Let us know in the comments.