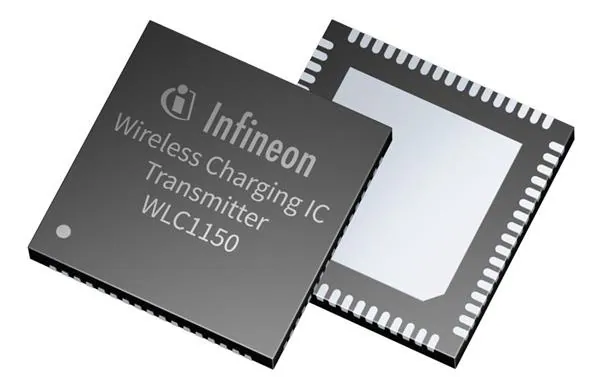 Infineon's WLC1150 wireless charging transmitter IC supports 50-W power transfer via a high-power charging protocol and wide input voltage range.
Infineon Technologies AG has unveiled its WLC1150 wireless charging transmitter IC that enables high performance and low-cost wireless charging. The configurable IC is designed to support up to 50-W wireless power transfer across a wide range of applications including industrial, robotics, drones, healthcare, vacuum cleaners, power tools, docking stations and smartphone chargers (supporting Qi EPP).
The wireless transmitter IC supports 50-W wireless power transfer using a high-power proprietary charging protocol and a wide input voltage range of 4.5 to 24 V. Delivering high efficiency and flexible thermal management options, the WLC1150 offers low electromagnetic interference (EMI), integrated adaptive foreign object detection (FOD) and inverter control. A variety of methods are available to tune the adaptive FOD, including Q-factor, resonant frequency and power.
The WLC1150 also integrates a fan buck controller for thermal management, gate drivers for the inverter, which are controlled by frequency, duty cycle and variable voltage; and a USB type-C power delivery (PD) controller. The WLC1150 meets WPC Qi 1.3 with EPP, basic power profile (BPP) and proprietary power delivery extension (PPDE).
The WLC1150 is highly programmable with an on-chip 32-bit Arm Cortex-M0 processor with 128-KB Flash, 16-KB RAM and 32-KB ROM as well as a variety of peripherals such as ADC, PWMs and timers. Full-stack firmware allows for customization of application-specific FOD, in-band communication, sensing, protection and other system parameters via a graphical user interface (GUI), eliminating code debugging while streamlining the configuration process.
The WLC1150 is available in a 68-pin, 8 × 8 mm² QFN in tray as well as tape-and-reel packaging.
more information: https://www.infineon.com/cms/en/product/power/wireless-charging-ics/wlc1150-68lqxqt/
Please follow and like us: